Folias, from 'Metodo de cítara'
Both the name of the composer and the context of the music is not very clear. Sebastián de Aquirre is unlikely the be the composer and the piece was probably no part of a method. In this case it is classified as a piece by Sebastián de Aquirre because Los Otros (Lee Santana) made it famous as an improvisation on the cd "Aguirre". Eloy Cruz the musician who gave the manuscript to Lee Santana shared some background information about the manuscript including "Folias". The importance of this manuscript is definitely the location (Mexico) and the old age of the piece.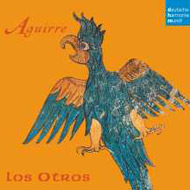 Eloy Cruz wrote about this source 16 January 2010 in an e-mail:

I gave Lee Santana (the author of the CD notes of "Aguirre" by Los Otros) all the info that I had about the MS, but it was several years before the making of this CD and I'm sure he had forgotten it, and I think his interests were somewhere else (hence the connection made by Lee between Sebastian de Aguirre -the supposed author of the MS- and Lope de Aguirre -the Spanish conquistador portrayed by Werner Herzog). Anyway, as long as I started this little Aguirre thing, I'd like to share with you some things I've learned of this MS; please don't take this as a criticism to Lee or anybody else, it's just my two-pence contribution for your wonderful page.

The Saldivar Codex 2 is a mexican manuscript for four-course cittern, or "cítara", discovered somewhere in Mexico by Dr Gabriel Saldivar y Silva (the same one who discovered the famous Saldivar Codex 4, the Santiago de Murcia baroque guitar ms), but both mss are not related to each other.

The Saldivar Codex 2 is undated, but was dated by Robert Stevenson as ca. 1650; in my opinion, because of its early repertoire (including Pavanas, Gallardas, Bacas and so on) and the lack of "modern" french pieces and menuets (always present in 18th century mexican mss), I think the Saldivar Codex 2 can be dated in the first half of the 17th century. Stevenson also says that the ms was written in the city of Puebla, in central Mexico, but he gives no reasons for this statement.

There are 2 names in the ms: Anttonio Marttin de Villegas and Sebastian de Aguirre, and I have found not one single piece of information about who these men were. There's no evidence that any of these 2 persons is the compiler or composer of the music, but then, apparently Dr Saldivar considered that the author was Aguirre and labeled the ms "Metodo de citara de Sebastian de Aguirre" and ever since Aguirre has been credited as the composer, and the MS considered a "method", which it is not. In fact, I think Anttonio Marttin de Villegas could be the author or compiler of the MS because his name is at the beginning of the ms. Aguirre's name appears only at the end in an acrostic (a very bad one) praising his nobility and making him some kind of a warrior or soldier, so I think Aguirre was the patron or boss of some guy who could or could not be a musician, called Anttonio Marttin de Villegas, but it's only guesswork.

I don't have the xerox copy of the MS with me, but according to my index, there are only 2 folias in it, in f. 16v., headed: "folias por 6 y 7 rasgas" and "folias por elami rasgas." rasgas (last 2 letters in superscript) is an abbreviation for "rasgadas", strummed. This would mean that only the basic folia chords are in the original, and all the rest of the music was composed by Lee Santana. As I tell you, I don't have the xerox with me, I'll check it.
I use to say that Lee "reconstructed" the music of the MS, but in this case he probably composed it. This folia was first recorded by Lee on the cittern and myself on baroque guitar at the CD "Laberinto en la guitarra. El espíritu barroco del son jarocho".
Ensemble Continuo (Lee Santana cittern, Eloy Cruz baroque guitar) 'Labyrinth in the Guitar'
Eloy Cruz wrote about this Follia:


This is a very simple version, the one in the Los Otros Aguirre CD could be very different (I've never heard this CD), because as Lee says, they all were improvising.



Los Otros (Hille Perl: viola da gamba, Lee Santana: Mexican cittern, Steve Player: Xarana) 'Aguirre'
I really don't know in how far Aguirre is involved in this Folia-composition because in the documentation of the cd there is no detailed account for the sources of the manuscript, but I guess it will be catalogued as Aguirre's Folia in the future.
If I understand it correctly it will be a book with exercises how to play the Mexican cittern. It looks very plausible that a Folia is included because it was one of the most popular tunes in the 18th century, but I lost count how many different Folias the members of Los Otros has recorded so far. In the documentation is stated that the manuscript was more the vehicle to put together some improvisations and that is reflected in the music because there is almost no structure whatsoever in this Folia-tune. An acoustic mix of popmusic close to the Eagles and the Hidalgo brothers of Los Lobos (instead of Los Otros?) pops into my mind although the viola da gamba seems a very long way from home here.
Lee Santana wrote for the slipcase:


I locked myself in with a copy of the Manuscript, which is a very chaotic (typical cittern!) collection of chord charts and 'licks' for what must have been some of the hits of that era, a kind of 17th century fake book. There are no rhythmic indications whatsoever, and lots of mistakes all over (cittern!)., so I had a heyday making sense and nonsense out of these fragments. [...] The pieces are sketches; some bits of tunes, bass lines, chords, forms, sometimes germinal ideas for solos.

Released 2004 by Deutsche Harmonia Mundi, BMG compact disc 82876 60489 2
Duration: 6'30"
Recording date: February 24-28, 2004 at Colnrade, Germany

Tembembe Ensamble: Leopoldo Novoa ( marimbol, guitarra de son, jarana huasteca, arpa llanera y tiple) , Enrique Barona (voz, huapanguera, jaranas, marimbol, leona, pandero y maracas), Eloy Cruz (guitarra barroca jarana barroca y tiorba)
Invitados: Ulises Martínez (violín, cajón de tapeo y voz), Ada Coronel (vihuela y voz), Andrés Flores (jarana y voz), Donají Esparza (baile tradicional) 'Diferencias e invenciones: Nuestro son barroco '

In the announcement during the concert was stated:

La pieza que vamos a tocar ahora es de las pocas que estan... mas bien quiero decir que es un par de piezas: es una Folia que procede de un libro mexicano del siglo XVII que le dicen el Metodo de Citara de Sebastian de Aguirre, porque era para un instrumento que ya no se utiliza en absoluto que se llama citara y Leopoldo va a tocar la parte de la citara con este tiple Colombiano

Translation in English by Carlos E. Osuna:


The piece that we are going to play now is one a the very few that...I really want to say that it is a pair of pieces: one is a Folia that comes from a 17th-century Mexican book named "Method for the Cittern (Citar) by Sebastian de Aguirre", because it was for an instrument that is now obsolete that was name Cittern, and Leopoldo is going to play the Cittern part on a Colombian tiple.

Eloy Cruz wrote about this concert 16 January 2010:

The version we played at the Festival Cervantino is basically the same as in the Laberinto CD, but played on a 4-course, triple-strung colombian guitar called "tiple", and blended with a Colombian piece called "La Guaneña". This version has been very recently recorded in the CD: "Diferencias e Invenciones. Nuestro son barroco", Tembembe-M Sonido (Mexico).
This last version is somewhat of a divertimento and I had forgotten all of the Aguirre-Santana thing; sorry, I'll never again say that this piece comes from Saldivar Codex 2.
Incidentally, in the Festival, after this folia, we played the Follia by A. Corelli in a "Huasteco" versiona. Our fiddler, Ulises Martinez, is very well acquainted with the music of the Huasteca region by the Gulf Coast of Mexico (always played by one violin and 2 guitars, all tuned at A=415) and he said that this Follia could very well be a traditional piece from this region in Mexico.
Title: Folías from Códice Saldívar 2: Método de cítara de Sebastián de Aguirre, México, siglo XVII, reconstrucción: Lee Santana.

Broadcasted by a Mexican Radiostation during the anual festival 2009 in Guanajuato which is a state very close to Zacatecas in Mexico. It is a mixture of everything, including dance, theatre and plain entertainment. Savall has been there several times.
Duration: 2'27"
Recording date: October 22, 2009 in Templo de la Valenciana in Guanajuato, Mexico

22 Variations sur les Folies d'Espagne (1689), published in Pièces de clavecin (1689)
Ms. in Deutsche Staatsbibliothek Berlin, Mus Ms. 30 206 p. 40-44
Ms. in Bibliotheca National Madrid, s-89ter nr. 21
Bevery Scheibert wrote about the variations of d'Anglebert:


D'Anglebert follows the form of the later (as opposed to the early diverse one) folia closely, but varies the final cadence by using submediant or subdominant harmonies. His 22 variations constitute an early instance of keyboard melodic variations. The form is defined as having a generally fixed harmonic scheme and constant formal proportions; the main notes of the melody are retained but may be embellished in any number of ways by addition of nonharmonic tones and rhythmic variation. The melody of d'Anglebert's Variations undergoes continual alteration in the soprano voice, supported by the harmonic structure and fluent movement of the lower voices. Since D'Anglebert adheres to the constraints of the form, the harmonies are simple. Occasionally the rhythmic interest shifts to a lower voice or voices, or a distinctive rhythmic pattern may be tossed between the hands, as in Variation 16. In Variation 21 the melodic notes are trilled with alternating upper and lower auxiliaries, almost producing the effect of a continuous trill. The scale and arpeggio pattern in the bass of the last variation resemble the Italianate violin style.
Although numerous settings of the folia melody occur in French manuscripts of the period, D'Anglebert's Variations are possibly the first published keyboard melodic variations on the folia, preceding those of Pasquini (in manuscript from the 1690s), Alessandro Scarlatti (1715) and C.P.E. Bach (1778). D'Anglebert's Variations had great popularity and longevity, for they are also found in a late eighteenth-century German manuscript. They reflect characteristics of the Italian school-notably those of Bernardo Pasquini.
D'Anglebert's Variations also fall into this classification of melodic variations, with a homophonic texture and fixed harmonies, and they appear to antedate those of Pasquini. Whatever the case, D'Anglebert was probably influenced by the Italians, for traits such as violinistic gestures occur. His Variations, however, do not reflect the virtuoso style, sharp contrasts , and vivid imagination of those by Marais. One senses that Marais's variations were for the pleasure of a seated audience, while D'Anglebert's could have accompanied dancers and may have been included in his edition for their populair appeal. Although simply constructed, these variations succeed admirably within their strict harmonic and formal framework.
Duration: 0'34", 02 kB.
The opening-variation (16 bars) transcribed from Pieces de Clavecin
and thanks Don for some basic lessons in ornamentation
First 8 bars of the opening-variation by d'Anglebert
by unknown source
Published 1965 by Broude Brothers, New York

Titel: Pieces de Clavecin, facsimile of the 1689 Paris edition
Part of: Monuments of music and music literature in facsimile, First series Music IV
11 p. (page 88 till 98), 29 cm

Farr, Elizabeth (harpsichord solo) 'Jean-Henri d'Anglebert, Suites de clavecin'
Elizabeth Farr wrote for the slipcase:

The Suite in D minor is a large suite that opens with a prelude non mesure twice as long as those of the previous suites, moving forward with excitement and anticipation.
The suite is capped by a set of22 variations on the Folies d'Espagne. The word folia, a popular ground that originated in fifteenth-century Iberia, literally means "insanity" in Portuguese. A wild, churning dance song, it was used as the basis of improvisations and virtuoso compositions. Its influence can be felt throughout this suite, in which the key of0 minor carries affects ofdevotion and grandeur, melancholy and phantoms

Title: Variations sur les folies d'Espagne
Released 2008 By Naxos 2x compact disc-set 8.570472-73
Duration: Variations sur les folies d'Espagne: Couplet 1 Couplet 1: 0':54", Couplet 2: 0'28" Couplet 3: 0'30", Couplet 4: 0'30" Couplet 5: 0'30", Couplet 6: 0'20", Couplet 7: 0'30", Couplet 8: 0'30", Couplet 9: 0'28", Couplet 10: 0'29", Couplet 11: 0'31", Couplet 12: 0'31", Couplet 13: 0'29", Couplet 14: 0'52", Couplet 15: 0'29", Couplet 16: 0'29", Couplet 17: 0'28", Couplet 18: 0'29", Couplet 19: 0'29", Couplet 20: 0'33", Couplet 21: 0'29", Couplet 22: 0'37"
Recording date: August 2007 at Ploger Hall, Manchester, Michigan, USA
Harpsichord: The lute harpsichord used in this recording is oneKeith Hill made in 2000 using a description found in Adlung's Musica Mechanica Organoedi (I768) of a lautenwerk made for J. S. Bach based on his special requirements. Tuning a' 415 Hz



Gammie, Ian arranged Les Folies d'Espagne for three bass viols with optional figured bass continuo for lute, keyboard etc.

Published 1990 by Corda Music Publications http://www.cordamus.demon.co.uk/
Part of: French music for Viols
Score viol parts 4 p. each, basso continuo (partly realized) 8 p., size A4 - 210 x 297 cm
One of the viols needs a low A-string in French style.
The number of variations: 21 Couplets after the main theme, the ornamentation is mostly reduced to standard gamba ornament signs.
Publisher No. CMP 406

Gammie, Ian arranged Les Folies d'Espagne for three violas with optional figured bass continuo for lute, keyboard etc.

Published 1997 by Corda Music Publications
Score viola parts 4 p. each, basso continuo (partly realized) 8 p., size A4 - 210 x 297 cm
The number of variations: 21 Couplets after the main theme, the ornamentation is mostly reduced to standard gamba ornament signs.
Publisher No. CMP 637



Kim, JungHae (harpsichord solo) ' D'anglebert pieces de Clavecin 1689 Paris'


Title: Suite No 3 in D Minor - Variations (couplet 1-22) sur les folies d'Espagne
Released 2010 by Magnatune compact disc
Duration: 10'25"
Recording date: unknown




Nyquist, Kristian (harpsichord solo) 'Jean-Henri d'Anglebert, pièces de clavecin'
Kristian Nyquist wrote about Les Folies d'Espagne in the slipcase:

The triumph of the Folies d'Espagne started probably around 1656 after the appearance of the guitarist Francecsco Corbetta in Paris. The name is derived from, the Portuguese "folias", meaning lunacy. It originated from a noisy, very fast carnival dance of fertility and slowed down in the course of time. The wonderful melody enhanced its popularity throughout all of Europe. d'Anglebert's variations, maybe the first published version for keyboard, are not so much on the virtuoso order as the ones by Marais, Corelli or Vivaldi, but can be well imagined to have served for real dance occasions. Yet, in this form it survived its creator and even still is found in a German manuscript from the late 18th century.

Title: Variations sur les folies d'Espagne, edition J.-H. d'Anglebert Pièces de Clavecin, editor Kenneth Gilbert, published by Heugel, Paris 1975
Released without any indication of the year by Etoile Production Sabam TM compact disc EDPO311
Duration: 10'53"
Recording date: October 1998 in Centre paroissial de Boom, Belgium
Temperament meantone
Harpsichord made after Italian models by Colin Booth, Wells, 1993



Rousset, Christophe (harpsichord solo) 'd'Anglebert, complete harpsichord works (2 cd-set)'

Duration: 9'12" direct link to YouTube
Christophe Rousset plays Folies d'Espagne
© Decca records

Title: Folies d'Espagne (grouped under pieces in D minor)
Released 2000 by Decca compact disc 458 589-2 79.04 and 458 590-2 79.35
Duration: 9'08"
Recording date: Sept. 27 till Oct. 10, 1996 in Musée d'Unterlinden in Colmar
Ruckers harpsichord from the Musée d'Unterlinden in Colmar
Pitch a'= 392, temperament: meantone.



Stolz, Ernst (viola da gamba) and Smagge, Karel (harpsichord)
This looks more like an arrangement of the Folies d'Espagne by Marin Marais but some variations of 'd'Anglebert are incorporated for the harpsichord.

Duration: 8'33" direct link to YouTube
Ernst Stolz (viola da gamba) and Karel Smagge (harpsichord)
© Ernst Stolz and Karel Smagge, used with permission

Title: Variations sur les Folie d'Espagne after Jean-Henry d'Anglebert
Released at YouTube April 9, 2010
Duration: 8'33"
Recording date: during a live concert April 8, 2010 in Den Hague, The Netherlands



Tomás, Pilar (harpsichord) 'Obras para clave'
Pilar Tomás wrote about Les Folies d'Espagne in the slipcase:

The suite in d-minor ends with the set of variations on 'La Folia de Espana'. These are the only variations on this popular theme composed for a keyboard instrument in France during the 17th century*. 'Folia' meant 'madness' in Castilian [the standard literary form of Spanish], and it was originally used to refer to a very fast dance, 'out of control' ['alocada' means literally with madness but it really implies 'beyond the standards or beyond the reasonable framework']. Little by little, the dance becomes slower (being assimilated as a courtly dance). D'Anglebert variations are 22 pieces of notable 'richness'. Within their scope we discover different styles: Italian, French... The [contemporary] baroque choreographies (cf. Feuillet) justify the use of changes in tempo and character.

* In 1998 there was another long forgotten manuscript of the Folies d'Espagne for harpsichord published of minor importance and which was originally collected by Marc Roger Normand (1663-1734) in 1695.


Title: Variations sur les Folies d'Espagne
Released by RNE compact disc RNE M3/08
Duration: 9'53"
Recording date: 4/9 October, 1990 in Estudios Música 1 de la Casa de la Radio (RNE), Madrid



Tramier, Brigitte (harpsichord) with Philippe Foulon (viola da gamba) and Alain Boucho (percussion) in Folies d'Espagne 'J.B. Lully, J.H. d'Anglebert, Les songes agréables d'Arys '


Title: Les Folies d'Espagne
Released 2002 by Parnassie éditions compact disc 3 361 540 151 100
Duration: 12'24"
Recording date: April 30-May 2, 1999 in les galaries historiques du XVIIème siêcle au Château de Versailles, France
Harpsichord: J. Ruckers (1628)




Willi, Barbara Maria (harpsichord) 'Jean Henri d'Anglebert, Sämtliche Cembalowerke Vol. 2'
Barbara Maria Willi wrote about Les Folies d'Espagne in the slipcase:

From among the pieces in the appendix, which encompasses all those movements not included in Part 1 of my complete recording, I would like to single out one that in terms of size and form is unique among d'Anglebert's original works for harpsichor: the variations on the famous Follia bass. As a mosaic of many dissimilar parts, the twenty-two couplets represent a great challange to the player.
In my opinion, the Follia variations are d'Anglebert's most 'Italian' work. Besides French style cantabile sections dominated by the upper voice, elements of the Italian style can also be found: variations with rhythmici ornamental figures and a clear alternation of regular motion between the bass and the soprano. The long series of small character sketches finally leads into a flashy solo in the left hand, which is accompanied in the right hand by chords enriched with acciaccaturas. The master arranger, the great protagonist of beautiful gaillardes, and creator of weighty sarabandes thus shows himself also to be a master of inventiveness and instrumental diversity. Let us hope that also from this recording he may be recognized as such.

Title: Variations sur les Folies d'Espagne
Released 1999 by Musicaphon compact disc M 56828
Duration: 9'18"
Recording date: August 1998 in Schloss Bystrice pod Hostýmem
Edition Kenneth Gilbert, Paris Heugel & Cie